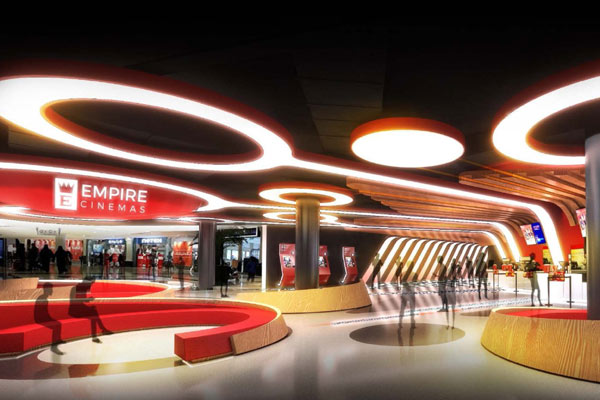 Havelock One Interiors, a leading turnkey fit-out contractor in the Middle East, said it has been signed up Lebanese cinema chain Empire Cinemas for work on the interiors of three major multiplexes in Saudi Arabia at a total investment of $25 million in the cities of Riyadh, Madinah and Al Ahsa.
The multiplex at capital Riyadh will be located inside the Othaim Mall Rabwah featuring 10 screens and 1,254 seats over a 4,785 sq m area, while the 10-screen facility at Madinah will come up in Al Rashid Mega Mall featuring 744 seats on a 3,250 sq m area.
Havelock One Interiors said the cineplex at Al Ahsa will be located at the Othaim Mall featuring eight screens and 714 seats over a 2,886 sq m area.
After successfully completing projects in Jizan and Al Khobar, the regional interior contractor has been entrusted by the entertainment specialist with bringing more of its cinemas to life.
The fit-out work has all been conceptualised by Empire's long-standing design partner, DNA Architects & Planners, a major Lebanese architectural and interior design firm.
In 2019, Empire Cinemas entered the kingdom in style celebrating its 100th anniversary. Its first venue in Saudi Arabia was a 10-screen, 728-seat multiplex at Al Rashed Mall in Jizan, thus marking a milestone for the family business, founded by visionary Georges N. Haddad and now being led by its third generation.
Empire Cinemas CEO Gino Haddad said: "It's our vision to develop our brand portfolio and expand our geographical coverage by propagating our legacy and passion across the region: entertainment."
Given its track record as a premium turnkey service provider in the cinemas and indoor entertainment space, Empire said it had selected Havelock One for its debut project which had to be built within 280 days, covering supply, installation and the commissioning of architectural and interior decoration, joinery and MEP works.
Later, a contract for the recently completed Empire Cinemas at Al Rashid Mall in Al Khobar, followed, a much larger and more complex project featuring 18 theatres, including three auditoria for kids, two Dolby Atmos movie theatres, three VIP and one immersive 4DX cinema, covering a total space of more than 6,200 sqm.
Commenting on the new projects, Haddad said: "We are proud to be collaborating again with Havelock One, following the successful outcome of our Al Khobar and Jizan venues. Havelock One has proven to be a reliable fit-out partner, with excellent onsite management skills, and prompt delivery timelines."
Group Managing Director Syed Kashif Akhtar said: "In the business of service delivery, nothing is a better testimony of a job well done than repeat business. We are grateful and pleased that our manufacturing unit in Bahrain and our fit-out teams in KSA keep on delivering for prestigious entertainment clients such as Empire Cinemas."
Empire's relationship with Havelock One is not the only one evolving. Since the beginning, DNA has been supporting the cinema operator's expansion in Saudi Arabia.
DNA's designs follow Empire's ambition to offer the latest technology in a convenient and comfortable setting, while tailoring every cinema's venue to the specific market and customer preferences, said a senior official.
"For Jizan, due to a corner location, we extended the entrance to the mall's common area to maximise the visual perception. A sculpted trail consisting of digital screens, dynamic motion light effects and Empire's prominent self-ticketing kiosks further increased the appeal of the movie theatre for shoppers and mall visitors," remarked Dany G. Daoud, the Managing Director of DNA.
"The design of the Al Khobar multiplex even incorporates a more abstract dimension; the fact that the city is built on the crossroads of different highways, connecting Al Khobar with Dhahran-Jubail and Bahrain-Dammam, has been reflected in a transitional walk," stated Daaoud.
"More tangible aspects of the city, like its long corniche and industrial history, have shaped the urban language and an outdoor street atmosphere of the cinema's interiors," he noted.
This conceptual complexity allowed Havelock One to showcase its ability to translate a strong design vision into reality. The metal department created container structures by corrugating and powder-coating metal sheets; the local fit-out team worked with Saudi graffiti artist Ali Al Zourib to add street credibility.
Similarly, the transition from the mall into the centre of the multiplex is expressed by a passage panelled with back-painted glass and illuminated with multi-coloured LED strips that are core to creating a captivating visual experience for the cinemagoers before they have even reached their chosen auditorium.
One of the three upcoming projects, the one in Al Rabwa, Riyadh will offer a shift in dimensions for its guests.
The public area facing the concession is a static space, whereas, once crossing the gates, customers get to experience a dramatic transition to another dynamic and dreamy "dimension", playing with the experience of gravity and space.
The cinema's interiors will create an illusion that resembles falling towards a main focal element, the bridge, diagonally axing a rectangular void.
"Joining forces with Empire and DNA is always a great, rewarding challenge," said Nigel Wilson, Division Director of Havelock One KSA.
"They have truly understood how to engage and excite a young and entertainment-hungry crowd that is just at the beginning of its evolution," observed Wilson.
"Over the two previous projects, Empire, DNA and the Havelock One team have become truly accustomed to each other's way of working. Now, this can be all brought together to provide a blueprint for seamless, integrated and collaborative delivery," he noted.
Based on the project timelines of 240-280 days, the Empire Cinemas in Al Ahssa, Madinah and Riyadh are expected to open in summer 2022.-TradeArabia News Service