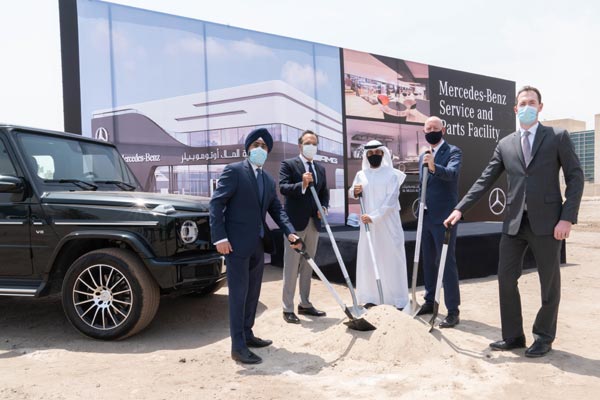 Al Mulla Automobiles Company, a member of Al Mulla Group and the sole authorised distributor and exclusive service and repair partner of Mercedes-Benz in Kuwait, has officially broken ground on its new Mercedes-Benz 2S Customer Services Facility in the Shuwaikh Industrial zone.
The project is being implemented in two phases, said Al Mulla Automobiles Company in its statement.
The Phase one will see the setting up of a service lobby and several delivery bays over more than 8,000 sq m area. With work in full swing, the first phase is likely to be completed in October.
With this expansion of Mercedes-Benz Kuwait's network of facilities over two phases, Al Mulla Automobiles is reinforcing its commitment to customers by providing them with additional products and services at more convenient locations, remarked Group CEO Talal A. Al Mulla at the ground breaking ceremony.
MD Automotive Group Imad Flayhan and members of the senior management team at Al Mulla Automobiles Company also took part.
"We are very excited to break ground on our new Mercedes-Benz 2S Customer Services Facility in Shuwaikh, which promises to provide our customers with more choices and a greater variety of products and services," remarked Al Mulla.
"This facility is one of many new initiatives that Al Mulla Group is investing in for the expansion of the Mercedes-Benz network in Kuwait. It also reflects our commitment to continuous growth and brings us closer to our customers. Once completed, the 2S Service Facility will ensure that more of our loyal Mercedes-Benz clientele in Kuwait have the convenience of getting our certified and award-winning services at a state-of-the art facility," he added.
Al Mulla said: "At the new centre, customers will be greeted at a service reception consisting of private and semi-private consultation areas. It will also include a Mercedes-Benz Boutique for customers and a barista area. The 2S Customer Service Facility will deliver the world class hospitality Al Mulla Automobiles is renowned for."
"The new facility will offer clients the most advanced digital interface customer service experience. Furthermore, this advanced technology service facility fully conforms to Mercedes-Benz's future retail concept MAR 2020, which involves the overall look of the showroom, vehicle presentation, sales process and customer consultation," he added.-TradeArabia News Service