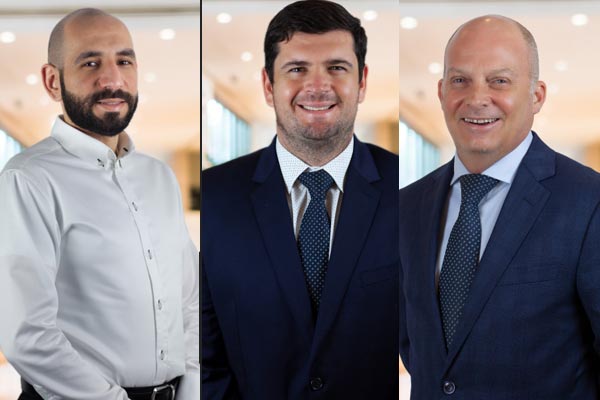 Fady Hamad, Marc Ferreira and Darryl Hutchison.
Luxury residential and hospitality property developer Seven Tides has made key appointments to its senior management team, to spearhead corporate strategy, as the UAE economy continues to grow steadily, after the effects of the pandemic.
Darryl Hutchison, Marc Ferreira and Fady Hamad, will assume responsibility for sales, finance and operations respectively.
Hutchison had joined Seven Tides last year as head of sales and despite the social restrictions as well as the economic uncertainty that prevailed during the Covid outbreak, he still managed to drive sales for Seven Tides' Golf Views & Seven Palm projects, worth over $152 million in 2020.
The multi-award-winning Hutchison who has more than 13 years' experience in business development will now have added executive responsibility, in addition to managing a team of 23 employees, covering sales, sales support and CRM.
With over a decade of experience, Ferreira was recently appointed as head of finance for Seven Tides, taking responsibility for the financial accuracy and reporting of sales, leasing, Owners' Association and Dubai Heights Academy.
A South African national, Ferreira was previously commercial manager after being promoted from financial manager for a large organisation from the Durban Metropolitan Area in South Africa. He started his career as an auditor at international accounting and consulting firm Grant Thornton in Johannesburg.
Hamad, has been promoted to head of construction and development – engineering and will oversee all of Seven Tides' projects.
Having joined the group in 2015, Hamad along with his team, managed all of the company's contractors and suppliers for multi-million-dollar projects on the Palm Jumeirah and Jumeirah Lakes Towers (JLT).
He is also responsible for the maintenance division, which manages over 50 properties across a diverse portfolio which includes villas, apartments and warehouses, as well as heading-up Seven Tides Owners Association.
On the key appointments, CEO Abdulla bin Sulayem, said: "It was important that we not only strengthened our overall management team but provided experienced figureheads to plan and direct strategy in these key areas. We are facing the 'new normal', with transparency, social conscience, sustainability and technology shaping the way in which we operate."
"Hutchison, Ferreira and Hamad are leaders with proven track records and are welcome additions to our executive team," he added.-TradeArabia News Service