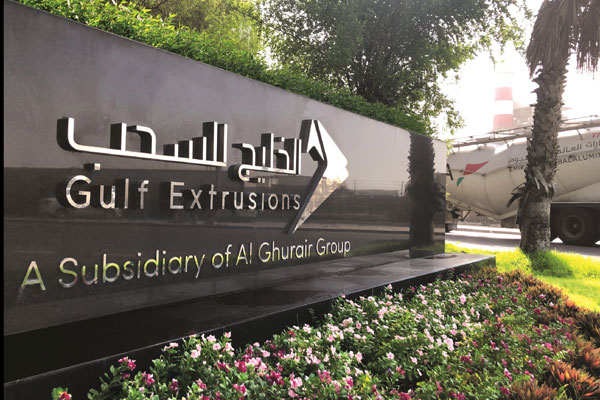 Emirates Global Aluminium (EGA), the largest industrial company in the UAE outside oil and gas, and Gulf Extrusions, a subsidiary of the Al Ghurair Group, have signed an agreement for the innovative re-use of an industrial by-product in EGA's production process, replacing the use of fresh raw material, improving efficiency, and benefiting the environment.
The agreement is another step by EGA to re-use waste streams as feedstocks by cooperating with other industries, EGA said in a statement. EGA recycles around 100,000 tonnes of its own waste each year, including sending major waste streams as feedstock to industries including cement manufacturing.
Under the agreement, Gulf Extrusions will supply EGA with some 450 tonnes of spent caustic soda from its Abu Dhabi and Dubai extrusion plants each month for use in alumina refining.
In aluminium extrusion, caustic soda is used to dissolve residue aluminium in the extrusion dies and to etch extruded aluminium profiles in the anodisation process. Spent caustic soda from Gulf Extrusions is rich with dissolved aluminium. Previously, this by-product required extensive treatment at Gulf Extrusions, resulting in an aluminium-rich sludge that was supplied as an additive to cement manufacturers in the UAE.
The innovative approach jointly developed by EGA and Gulf Extrusions removes the need for treatment and re-uses the aluminium content of the by-product, making it a cradle-to-cradle solution. It also slightly reduces EGA's requirement for fresh caustic soda and bauxite for Al Taweelah alumina refinery.
In alumina refining, caustic soda is used to dissolve the aluminium content of bauxite ore.
Abdulnasser Bin Kalban, Chief Executive Officer of EGA, said: "Finding ways to re-use waste takes innovative thinking and close cooperation between companies and industries. But solutions like this agreement with Gulf Extrusions reduce the need for fresh raw material and are part of how we can address our global waste management challenge. The first priority must be eliminating waste generation, but we must think of waste we cannot avoid creating as a potential resource today rather than as our children's problem."
For his part, Christian Witsch, CEO of Gulf Extrusions, said: "EGA's re-use of spent caustic soda to make full use of the aluminium content of this by-product will reduce the environmental impact of both our companies. I believe this is the first time in the world that an extrusion company is supplying this by-product to an alumina refinery for re-use, and I am proud that Gulf Extrusions is part of this innovative sustainability initiative."
EGA and Gulf Extrusions have already extensively trialled the re-use of spent caustic soda at Al Taweelah, developing transport protocols to ensure its safe transfer between the two companies' sites.—TradeArabia News Service